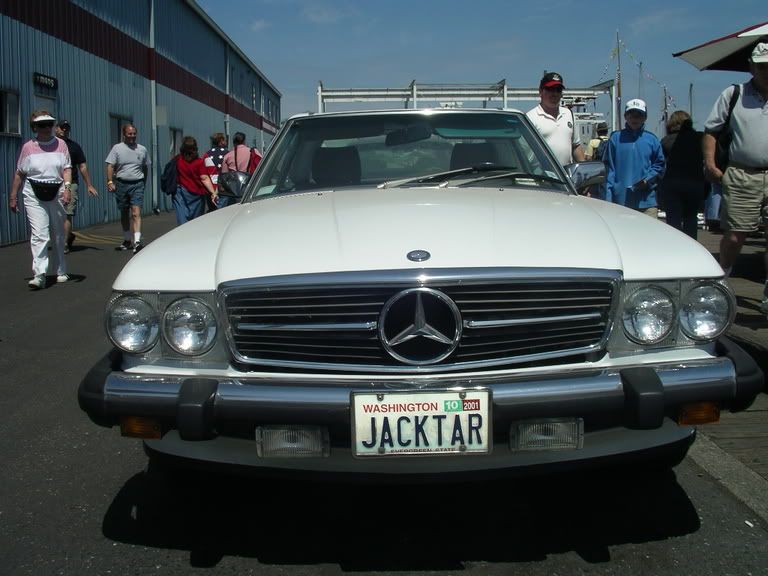 Not every Jack Tar owns a classic Mercedes. Here's to the shipping business!
And here's to TACOMA!!! Quite possibly one of the best ports ever when it comes to crew accommodations. Laundry picked up every morning and returned (clean! free!) the next morning, trash pick up daily, plenty of free internet access, free coronas and cokes at the crew lounge on the dock by Cuauhtemoc, and volunteers and ship's liaisons that took us everywhere we needed to go, and so much more! Yay for Tacoma! Every day Bill was open for dockside tours for 3 hours, averaging 300 people crossing her decks each hour. And here's to Paulette, the volunteer who checked all the passengers in at the top of the dock and kept that end running smooth. She really freed up the stewards on board. We took plenty of volunteers and crew from other boats on our sails, making Bill a candidate for Miss Congeniality for sure.
Every day we grabbed a few hardworking volunteers to sail with us, and every day we enjoyed the company of crew from Zodiac, Lady Washington, R. Tucker Thompson, Adventuress, Talofa or Pallada during our sails as well. When word got around that we might well have the best cook in the fleet (chef Guillo!), those visiting crew stuck around for more than just sailing. More than once a Bill crew would find an Adventuress crew wandering the docks, listless and glassy eyed from lack of animal flesh. We brought them aboard and filled them with bacon and chicken. Ever seen an Adventuress crew do the Bacon Dance?
Then, the grand finale was the fireworks on the 4th of July, only to be surpassed earlier that day by a full page layout of our girl Bill in the Tacoma News Tribune! Chief Mate Michael stocked the saloon with copies of the paper, which were greeted with gasps from every crewmember as each emerged from his or her rack that morning.
This was my grand finale on Bill, but I ( Kim Carver ) am still going to be running this blog until the buyers begin their own website for her. No tall ship should be without an online presence! I want everyone to know and love Bill as much as I have grown to love her. She is my favorite boat so far, and I have grown to prefer gaff schooners overall. For those of you who also enjoy Bill of Rights enough to tell a story about her or send a photo, please do! My email link is on the left, and I need input in order to keep this blog alive! I will be calling the present crew from my home in Austin, TX, but so many passengers take photos that everyone would love to see. Email me!
My parting shot of R. Tucker Thompson's galley... The morning of the 4th I ran around to other boats to collect cool t-shirts. R. Tucker is a sweet little tall ship and everyone wishes they could crew on her now.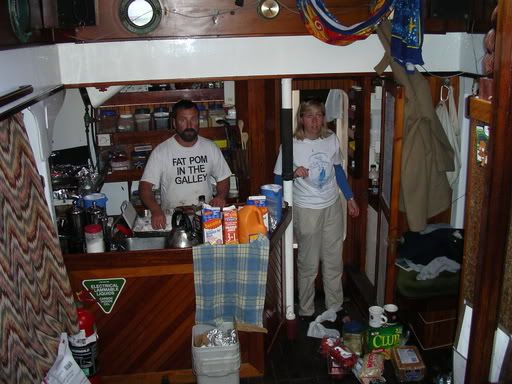 Fair Winds to the tall ships in Vancouver, then Port Alberni! I already miss so many crew. Keep me updated!
Love, Kim