Saw this sailing near the marina...
The brig's crew bent on a different topsl. This brig goes through main topsls like our Bosun's Mate Erin goes through Starbucks coffee. This is a view from the Barnes & Noble in Jack London Square this morning.
Shiny and Myuh in Myuh's office, the engine room on the brig. He likes it so much here, he has a cot he can sleep in. Notice the Crocodile Hunter strapped into the exhaust..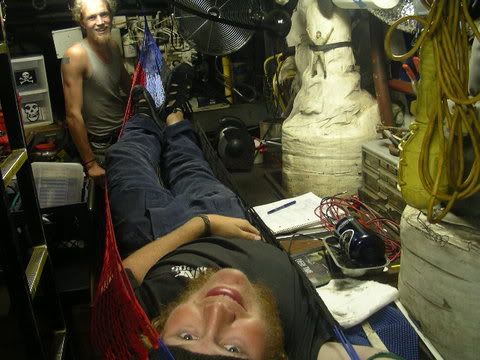 We thought we might use the cot as a body bag, just like the old days. Please, Shiny... no stitch through the nose...
Brig cook Rachel did some nice artwork on Shiny's hand
Haida Bob with his usual radiant smile, greeting visitors
Bosun's Mate Erin working on Bill of Right's mainsl
Mate Jim and Bosun Rich sanding our main boom
Jack London Inn donated 2 hotel rooms to the boats for a week! Yippee! And today is my day off, so here I am, updating the site!